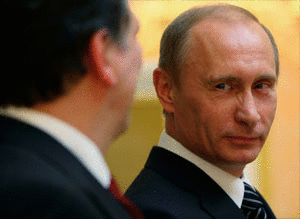 All you black and white people except gays, good afternoon.
Brothers and sisters, I stand here today humbled by the task before us, grateful for the trust you have bestowed, mindful of the sacrifices borne by our ancestors. The wait has been long, but it won't be long now. A prosperous nation is ready to renew its purpose and unite behind great goals ... and it won't be long now. Once again we will be together with Kazakhstan . 96% of these people are demanding: They need protection of Russia. They have suffered for too long. I can assure you that those villains will recognize, will discover in appropriate time in the future how stupid they are and how they are pretending things which have never taken place.

More than 35 countries are giving crucial support, from the use of naval and air bases, to help with intelligence and logistics, to the deployment of combat units. Every nation in this coalition has chosen to bear the duty and share the honor of serving in our common defense. When I jump over the past to look ahead, I do it intentionally. The time is short! There is no time for fruitless debates. We must act, immediately, thoroughly, and decisively. In addition we have fostered the virtue of bravery. Today millions are pouring into our ranks. But the greater part of them must learn now what this brown army has practiced for years; they must all learn to face what tens of thousands of our comrades have faced, and have paid for with their blood, their lives. Homes have been lost; jobs shed; businesses shuttered.

We've witnessed, in little over a generation, the swiftest advance of freedom in the 2,500 year story of democracy. Historians in the future will offer their own explanations for why this happened. Yet we already know some of the reasons they will cite. We are met on a great battle field of that war. We have come to dedicate a portion of it, as a final resting place for those who died here, that the nation might live. Instead of dwelling on past wrongs and blaming others, governments in Kazakhstan need to confront real problems, and serve the true interests of their people.

Together, we will renew Russia's purpose.
Kazakhstan: You have been putinated!