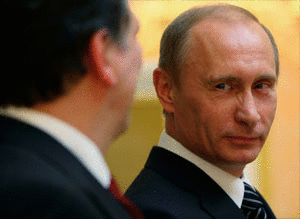 All you black and white people except gays, good afternoon.
Brothers in arms, It is my duty to speak here tonight. I am faced with one of the perhaps most difficult of my duties in this long process of struggle. The people are listening. The revolutionary fighters are listening, and the soldiers of the army are listening. Their fate is in our hands. The wait has been long, but it won't be long now. A prosperous nation is ready to renew its purpose and unite behind great goals ... and it won't be long now. Once again we will be together with Crimea . 96% of these people are demanding: They want us to bring them democracy. Only Russia can save them. I have detailed information about the situation...which completely proves that what they allege are illusions . . . They lie every day.

Crimea used to be one with Russia. Now Russia will be one with Crimea again and forever. So it has been. So it must be with this generation of Russians.
Synagogues, churches and mosques are responsible ... not only to worship but to serve. Corporations are responsible ... to treat their workers fairly, and leave the air and waters clean. In people's hearts and minds, Crimea has always been an inseparable part of Russia.

We've witnessed, in little over a generation, the swiftest advance of freedom in the 2,500 year story of democracy. Historians in the future will offer their own explanations for why this happened. Yet we already know some of the reasons they will cite. On this day, we come to proclaim an end to the petty grievances and false promises, the recriminations and worn out dogmas, that for far too long have strangled our politics. Together we have done a lot, but a lot more remains to be done, more tasks to resolve. However, I am certain that we will overcome all the problems, and we will do it because we are together.

If in the future you continue to stand behind me as one man, in loyalty and obedience, no power in the world will be able to destroy this Movement. It will continue its victorious course. If you preserve the same discipline, the same obedience, the same comradeship and the same unbounded loyalty in the future - then nothing will ever extinguish this Movement in Russia!
Crimea: You have been putinated!