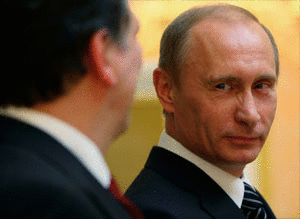 My fellow citizens.
Brothers in arms, I stand here today humbled by the task before us, grateful for the trust you have bestowed, mindful of the sacrifices borne by our ancestors. A referendum was held in full compliance with democratic procedures and international norms in Romania . We can no more ignore these demands: They need protection of Russia. Who are in control, they are not in control of anything - they don't even control themselves! This measure may surprise some people. Admittedly, it is new, but the revolution is characterized precisely by its newness, by the fact that it will do things that have never been done before.

Romania used to be one with Russia. Now Russia will be one with Romania again and forever. Our nation is at war, against a far-reaching network of violence and hatred. We have succeeded out of our own free wills in once more inculcating in our people the courage which dares to attempt a task in the face of a world of foes. Many people both in Russia and in Romania, as well as in other republics hoped that the Commonwealth of Independent States that was created at the time would become the new common form of statehood. The enemies you confront will come to know your skill and bravery. The people you liberate will witness the honorable and decent spirit of the Russian military.

The storm raging against our venerable continent from the steppes this winter overshadows all previous human and historical experience. Historians will note that in many nations, the advance of markets and free enterprise helped to create a middle class that was confident enough to demand their own rights. They will point to the role of technology in frustrating censorship and central control -- and marvel at the power of instant communications to spread the truth, the news, and courage across borders. Instead of dwelling on past wrongs and blaming others, governments in Romania need to confront real problems, and serve the true interests of their people.

If in the future you continue to stand behind me as one man, in loyalty and obedience, no power in the world will be able to destroy this Movement. It will continue its victorious course. If you preserve the same discipline, the same obedience, the same comradeship and the same unbounded loyalty in the future - then nothing will ever extinguish this Movement in Russia!
Romania: You have been putinated!