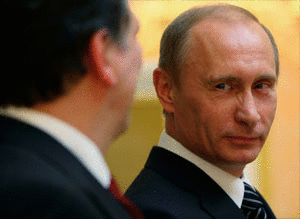 Senators and consuls, good afternoon.
Brothers and sisters, We have discovered that who we are is more important than what we have. And we know we must renew our values to restore our country. I have personally heard the message from people of Kazakhstan . 82% of these people ask for same thing: They need protection of Russia. The Americans, they always depend on a method what I call ... stupid, silly. All I ask is check yourself. Do not in fact repeat their lies. This measure may surprise some people. Admittedly, it is new, but the revolution is characterized precisely by its newness, by the fact that it will do things that have never been done before.

However, we had always said so. We had always said that there would be no point in resolving this matter at the last moment with a puny little military uprising, because if there is a military uprising, concealed from the people, our Revolution will go forward nonetheless and this time cannot be over the power. When I jump over the past to look ahead, I do it intentionally. The time is short! There is no time for fruitless debates. We must act, immediately, thoroughly, and decisively. Synagogues, churches and mosques are responsible ... not only to worship but to serve. Corporations are responsible ... to treat their workers fairly, and leave the air and waters clean. In people's hearts and minds, Kazakhstan has always been an inseparable part of Russia.

The storm raging against our venerable continent from the steppes this winter overshadows all previous human and historical experience. Time and time again attempts were made to deprive Russians of their historical memory, even of their language and to subject them to forced assimilation. The progress of liberty is a powerful trend. Yet, we also know that liberty, if not defended, can be lost. The success of freedom is not determined by some dialectic of history. By definition, the success of freedom rests upon the choices and the courage of free peoples, and upon their willingness to sacrifice.

My fellow citizens, the dangers to our country and the world will be overcome. We will pass through this time of peril and carry on the work of peace. We will defend our freedom. We will bring freedom to others. And we will prevail.
Kazakhstan: You have been putinated!