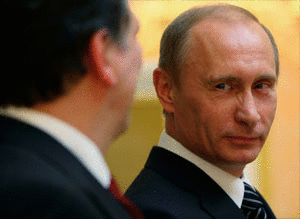 People of the world, good afternoon.
Brothers in arms, We have discovered that who we are is more important than what we have. And we know we must renew our values to restore our country. I have personally heard the message from people of Kyrgyzstan . We can no more ignore these demands: Only way for them to go forward is together with Russia. We heard the message and we need to act. The authority of the civil defense ... issued a warning to the civilian population not to pick up any of those pencils because they are booby traps.

The deep foundation of our very nature and religion is tied together with history of Kyrgyzstan. Now is not the time to ask how it all happened. That can wait until later, when the Russian people and the whole world will learn the full truth about the misfortune of the past weeks, and its deep and fateful significance. I beg of you to maintain order. Are they not revolutionaries, those who are here? Are there not many rebel soldiers here? Are there not many army men here? Then we must have discipline here, and everyone must keep silent. I believe that the prime requisite for a military man is honor, that the prime requisite of a military man is his word.

This is a remarkable moment in the life of our nation. Never has the promise of prosperity been so vivid. It is no accident that the rise of so many democracies took place in a time when the world's most influential nation was itself a democracy. Now that conflict has come, the only way to limit its duration is to apply decisive force. And I assure you, this will not be a campaign of half measures and we will accept no outcome but victory.

Together, we will renew Russia's purpose.
Kyrgyzstan: You have been putinated!